Moffat hosted an international Conference in September. 'Merlin Fact & Fake' brought together a range of academics, authors, experts in various fields and interested members of the public to explore and discuss the myths and facts that surround the story of Merlin. The successful Conference was a joint project between Moffat Museum and The Merlin Trail Association,
The 6th century AD is the background for the historic Merlin story, not as the wizard of legend but a man of learning – a free thinker who was suddenly subjected to horrors not so different to the present Russian invasion of Ukraine. His world was shattered in a bloodbath of pillage and genocide and his beliefs exterminated by the imposition of an alien religious dogma. Suffering post-traumatic stress disorder, he took to the hills as an outlaw, surviving on what nature could provide.
Over the centuries that followed, history evolved into legend. His story was adapted, to champion new ideals and changing times. What is fact and what is fake? Where does story-telling and history connect? The conference examined and debated the evidence. A programme of archaeological investigation starting in August in the Upper Tweed was also underway through August & September.
The fascinating Presentations and debates from the Conference are now available to everyone, free of charge. The event was filmed and can be accessed online by clicking on the picture above.
Museum Trustees say :
'We're really grateful to the Conference funders for this opportunity to present the event to a much wider audience. There's a lot of really interesting content and we hope people will take a look. There is also a series of Blogs from the archaeological investigations that can be accessed via the Museum's website as well.'
Click on the links below to see what our friends and colleagues have been doing over the 2022 season in the Moffat area.

---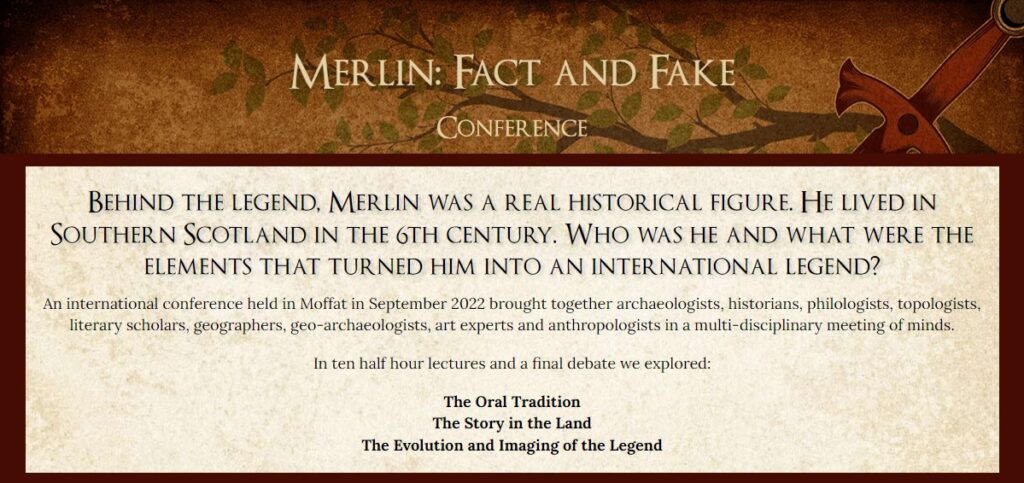 ---

---
Images and graphics courtesy of https://merlintrail.com/ and https://dark-age-digs.com/