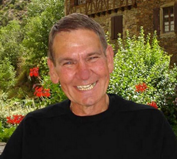 Jim was born at Moffat Cottage Hospital on the date that US President Harry Truman dedicated Idlewild Field (now John F. Kennedy Airport) in New York. His Dad ran the chemist's shop in the High Street which is now the Well Pharmacy. His Mum looked after the bits, such as the finances, that his Dad was not so hot on.
Jim went to primary school at Moffat Academy before going to Edinburgh to attend secondary school and university. He eventually became a town planner and spent the next 36 years trying to plan towns in London and Surrey. For 45 years he has lived in Brentford with his wife Sandra. Their son and daughter flew the nest many years ago but they now both live and work in London. Jim's sister, Elizabeth, lives in Oxford.
Early retirement was a joy and allowed Jim to pursue other interests including golf, gardening, beer, travel, and local history.
Moffat will always be very close to his heart and to that of his entire family. Treasure the wonderful place that Moffat is!
Jim has penned and published four books of writings about the history of Moffat and its people. He has kindly given Moffat Museum permission to use text extracts from these books on our website.