It's been a busy week for Moffat Museum trustees and volunteers at events around the town.
On Monday, we had a table at Moffat Academy Community Open Evening 2023.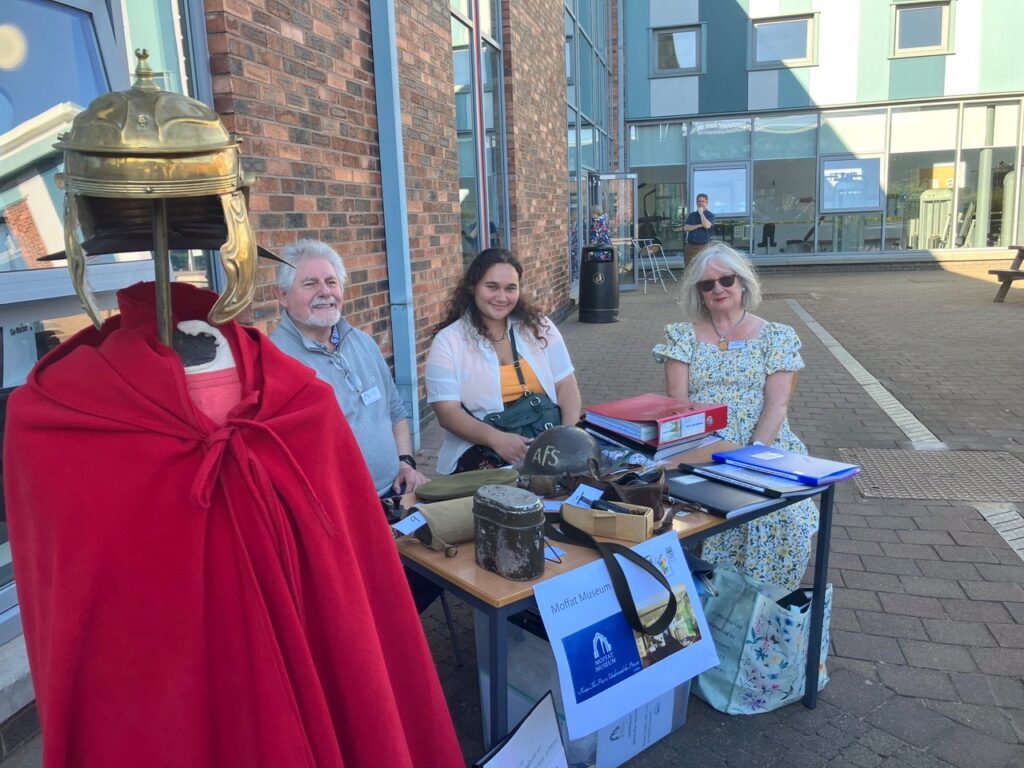 Neil, Tia and Annelise set up stall alongside our favourite Roman soldier.
Then on Tuesday, a new information sign was unveiled at the Moffat Ram in the High Street.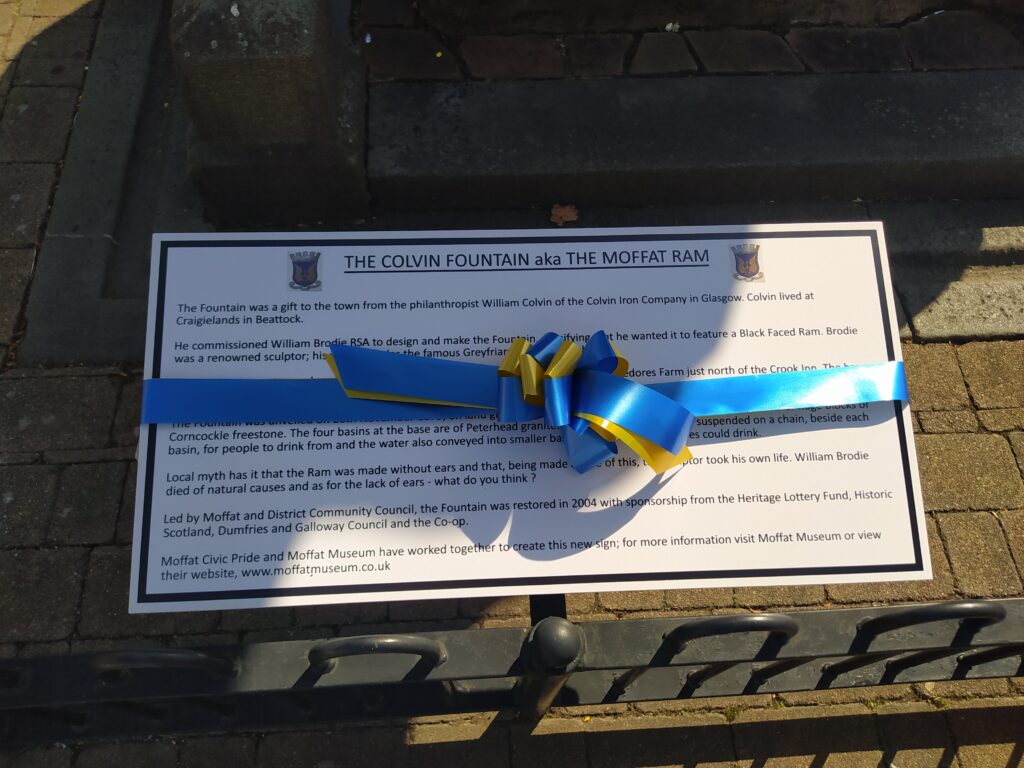 The text reads:
THE COLVIN FOUNTAIN aka THE MOFFAT RAM
The Fountain was a gift to the town from the philanthropist William Colvin of the Colvin Iron Company in Glasgow. Colvin lived at Craigielands in Beattock.
He commissioned William Brodie RSA to design and make the Fountain, specifying that he wanted it to feature a Black Faced Ram. Brodie
was a renowned sculptor; his work includes the famous Greyfriars Bobby in Edinburgh.
Brodie's bronze, set on red sandstone, was modelled on a prize-winning ram from Kingledores Farm just north of the Crook Inn. The bronze is a half-size larger than life and about 1.2 tons in weight.
The Fountain was unveiled on 26th November 1875, on land gifted by Captain Hope – Johnstone. The main part consists of huge blocks of Corncockle freestone. The four basins at the base are of Peterhead granite. A bronze drinking cup was suspended on a chain, beside each basin, for people to drink from and the water also conveyed into smaller basins where dogs and horses could drink.
Local myth has it that the Ram was made without ears and that, being made aware of this, the sculptor took his own life. William Brodie died of natural causes and as for the lack of ears – what do you think?
Led by Moffat and District Community Council, the Fountain was restored in 2004 with sponsorship from the Heritage Lottery Fund, Historic Scotland, Dumfries and Galloway Council and the Co-op.
Moffat Civic Pride and Moffat Museum have worked together to create this new sign; for more information visit Moffat Museum or view their website, www.moffatmuseum.co.uk
Trustees and volunteers from Moffat Museum were in attendance along with members of Moffat Civic Pride.
Pictures from the event show (clockwise from the top):
Rosemary Thomson and Jimmy Edgar cutting the ribbon to unveil the sign; the new sign unveiled; Rosemary Thomson of Moffat Civic Pride introducing the unveiling of the sign; local man Jimmy Edgar who kindly cut the ribbon; and the star of the show!